• All pizzas are topped with mozzarella and bottomed with our signature tomato sauce •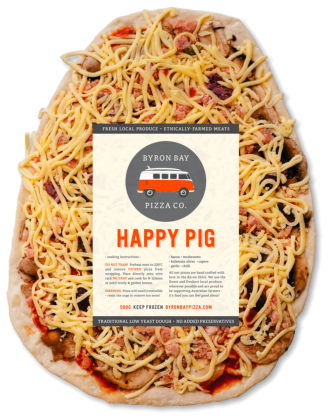 bacon • mushrooms • baby capers • kalamata olives • garlic • chilli
Our flagship 'Happy Pig' was inspired by the famous Italian pasta dish 'Spaghetti alla puttanesca' and as the name suggests (for those in the know) it has everything in it.
Traditionally it would have had anchovies but as divisive as they are we opted instead for a deliciously smoked bacon made especially for us by the legends at The Clunes Butcher in the Byron Hinterland.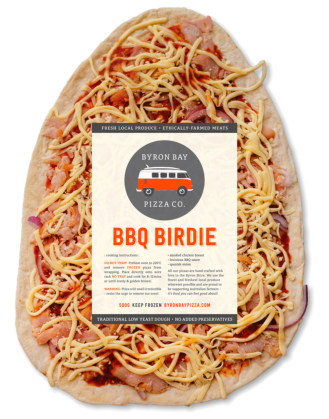 free range double smoked chicken breast • house made louisiana BBQ sauce • spanish Onion
Our house made Louisiana BBQ sauce is sweet and tangy with just the right amount of zing. When paired with the expertly smoked free range chicken breasts from our mates at The Clunes Butcher, our BBQ Birdie is definitely not your average BBQ Chicken pizza!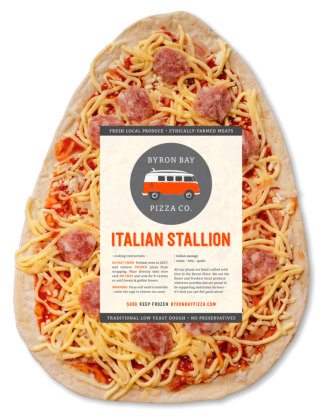 Free Range Italian sausage • onion • feta • confit garlic
The pasture raised pigs from Byron's infamous Hayters Hill Farm (who with out a doubt have one of the best views of the bay) make the Italian sausage the true hero of this simple and delicious sausage pizza. If Rocky Balboa ever had the chance to get amongst one of these we have no doubt it would have him screaming:
'Adriaaaaaaaaaaaaaaaaaaaaan'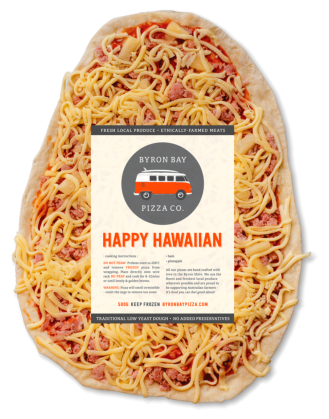 Double smoked Ham • Pineapple pieces
We have not reinvented the wheel on this one, just applied our philosophy of using the best quality ingredients we can get our hands on to make this crowd pleaser a favourite for the kids young at heart alike.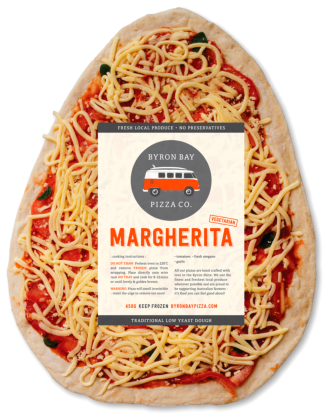 Fresh tomato slices • homegrown oregano • confit garlic
By no means a traditional Italian Margherita, our take on this Italian classic relies on the perfectly ripe Roma tomatoes from Jumping Red Ant (Duranbah N.S.W) and freshly picked oregano leaves from our own garden to keep the masses coming back for more. Simple,delicious and vego and kid friendly.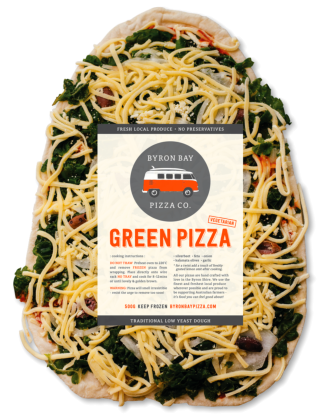 Fresh shredded silver beet • feta • onion • kalamata olives • confit garlic
With a generous pile of fresh silver beet this has to be one of the tastiest ways to get a big whack of leafy greens. For a twist we highly recommend hitting this bad boy with some fresh lemon zest when its fresh out of the oven.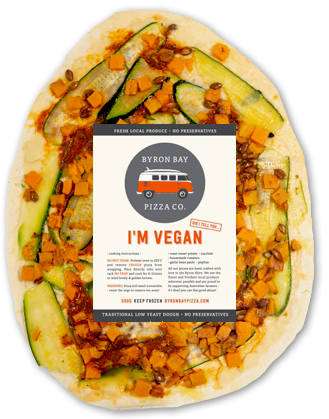 I'M VEGAN
(did i tell you…)
Roasted sweet potato • Zucchini • Housemade romesco sauce • Garlic bean paste • Pepitas
Due to popular demand from our Vegan friends we're happy to present the newest addition to the range…. '
When considering how to approach the challenge of coming up with a truly delicious vegan pizza it became apparent very quickly that the question on everyone's lips is… "to cheese or not to cheese?" aka Vegan cheese vs the cheese-less pizza? Now….is pizza still pizza without the cheese??
We deliberated on this for far too long, but after some sampling and reading of the ingredients lists of a dozens of vegan cheeses the decision was easy… There were more artificial flavours, colours and other nasties than you could poke a stick at so we set Chef Brad the task of coming up with an alternative. He did not disappoint when he returned with a deliciously smooth and morish garlic bean paste he had come up with which adds a cheese like creaminess that means nothing is lacking from this little ripper (except of course, the animal products).
So there you have it. A vegan pizza with no fake meat, no fake cheese, just full on flavour!